J. Scott Smith ("Heartbeat") has a new story "Silence" in Luna Station Quarterly, which is a magazine focused on speculative fiction by up and coming women authors.
Patty Somlo ("Starting to Breathe") has a new story "Where He Took His First Breath"  in The Write Room.
Donna Hilbert ("Flowers" and "In Quintana Roo") has a new guest blog on NEXTV's ALL LIT Up blogpost by James Goertel.  I also wrote a guest essay  ("In Service of Poetry") for ALL LIT UP.  Many thanks to James Goertel and Randy Becker for letting us write about poetry.  Donna has two poems in the latest Pearl magazine: "To My Piriformis" and "Blind."  She also has a poem "Giullieta Hears a Prophecy" in Poets/Artists, issue 31.  Donna also has work in the French publication Le Page Blanc.  More poems of Donna's are forthcoming in other publications, and I will tell you about those when they are published.
Chicago has a brand new magazine: The Chicagoan, which describes itself this way: "The Chicagoan is a non-profit media organization whose mission is to document the arts, culture, innovators and history of Chicago and the greater Midwest through long-form storytelling."  In the inaugural issue, Joe Meno ("The Strange Episode of Aqua Voyage")  has a story, "The Secret Society of Alphonse F.!"   Meno fans will be glad to learn this story is an excerpt from his new novel, Office Girl, which will be out this July.  I signed on as a subscriber to The Chicagoan as soon as I heard about the magazine, but I have not read it yet.  I have to say it is gorgeous: glossy, perfect-bound, and chocked full of fiction, profiles, history, essay, interviews and conversations.
If you pick up issue 18 of  Poems & Plays, a journal of poetry and drama published each spring by Middle Tennessee State University, you will be able to read work by two contributors to Solace in So Many Words; Elizabeth Kerlikowske ("The Industry of Sleep" and "To Love an October Garden") has two poems: "Faces on Plates" and "Poem Without a Single Lie In It."  Kathleen Kirk ("The Solace of Reading: How to Survive Hormonal and Spiritual Upheavals of Midlife," "Postponing a Response to the Face of Mortality," and "The Heartbreak House") also has two poems in it: "After the Documentary" and "Nocturne in Gray and Gold."  If you get the latest issue (19) of Poems & Plays, you will  find three more of Kathleen's  poems: "Cassandra Loses Her Licence," "Cassandra Turns Into the Moon," and "Cassandra Takes Off Her Mask."
The latest issue  (Winter 2012) of the online journal blossombones, publishes more Cassandra poems by Kathleen Kirk:  "Cassandra Would Like to See Today," "Cassandra Reads Beowulf Aloud to Her Imaginary Daughter," "Cassandra Gets Lost" and "Cassandra Loses Her Grip" and also a poem by Pamela Miller ("What It's All About") that is titled "On Our Honeymoon in New York City, My Husband Turns into Times Square."
Kathleen also has poems ("Doorknob" and "Biopsy")  in the most recent  The Medulla Review (Volume 3, issue 2).  She also has a poem ("Swimmer's Ear") in Intentional Walk, the only online journal devoted to poetry about sports. In Lake Effect, Kathleen's poem "Finally the Rain" appears.  Lake Effect is a publication of the School of Humanities and Social Science of Penn State Erie, The Behrend College. Another great Chicago publication is After Hours, and in the Winter 2012 issue, Kathleen's  poem "The Sadness of Midas, golden and apart" appears.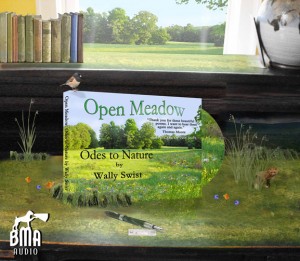 BMA (Berkshire Media Audio) has produced an 80-minute audio book recording of Open Meadow: Odes to Nature, by Wally Swist ("March Wind").  About 65 of Wally's poems are included , and a dozen are accompanied by musical compositions by Claude Debussy, Gabriel Faure and Vaughan Williams.
Ellen Bass ("And What if I Spoke of Despair," "Don't Expect Applause," "Jack Gottlieb's in Love," and "The Thing Is") has a number of workshops planned so check out her website. For example "Writing and Knowing"  in Esalan will be held for its eighth year with Dorianne Laux and Joe Millar in July.
Last week I went to an event for Highland Park Poetry in which poets read the works chosen to appear on north suburban Pace buses.  My poem "Some days" will ride the bus in August. I was so pleased to see the stunning graphic art for the poem, which was created by Isa Spoerry, who is a student at Highland Park High School.  It was great to meet Isa and her mother.  A big shout out of thanks to Jennifer Dotson who works so hard on behalf of poetry.