Many thanks to The Book Stall for hosting our celebration of Poetry Month—to Roberta Rubin for inviting us to read and especially to Amy and Gordon who worked late to accommodate us.  The Book Stall has been named Publishers Weekly Bookstore of the Year and it is obvious why. The Book Stall is supportive of readers and writers alike.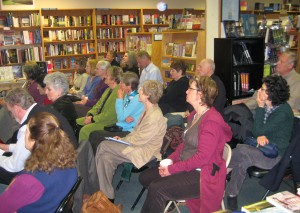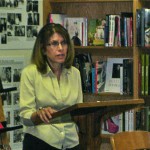 We had a pretty large crowd and they were a very attentive audience. We changed up our usual reading event in that we also featured poems from Solace in So Many Words. Joan Corwin started us off with her condensed excerpt from "Details" and then she read two poems: "Nature's Balancing Act" by S. Minanel and "They Call Me Grumpy" by Susan O'Donnell Mahan.
D. J. Lachance read his short fiction "Nagasaki Shadows" and the poem "Fighting Inertia" by Susan O'Donnell Mahan.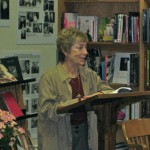 Carol Kanter has three poems in SISMW but she read only two, "Her Best Medicine" and "The Advanced Course" as well as her daughter Jodi Kanter's "High-End Grocery Solace" and Donna Hilbert's "Flowers."
Kathleene Donahoo read the beginning paragraphs of  "Stops and Starts" and also Noel Sloboda's poem "Backyard Burial."
Pamela Miller read poems by Patti Wojcik Wahlberg ("Breathe") and Elizabeth Kerlikowske ("The Industry of Sleep") and her own poem "What It's All About."
J. Scott Smith read from her story "Heartbeat" and Constance Vogel Adamkiewicz's "Library Tours Invites You to Spend A Day With Islam" and Patti Wojcik Wahlberg's "Breathe."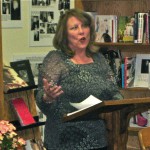 I read Laurence Snydal's "The Captive" and Ann McNeal's "Faith."
My thanks to everyone!