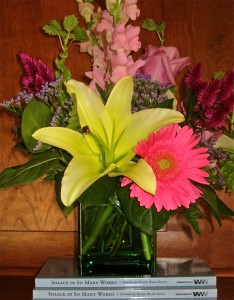 If you read my last post you know that Solace in So Many Words is one-year-old. I have been thinking of the highlights from the past year.
But before I give that account let me tell you how great it was that last week started with congratulatory flowers, sent by neighbor and mentor Fran Podulka and her husband Phil to celebrate the gold medal award Solace in So Many Words won from the Next Generation Indie Awards sponsored by Independent Book Publishing Professionals Group. Thanks Fran and Phil for making this even more special.
Our great year started  May 5  at a standing-room-only launch at Women and Children First Bookstore with a fun party at Reza's Restaurant afterward.  Many contributors were on hand, and it was especially great that Patti Wojcik Wahlberg and Lisa Liken came all the way from California.
Several readings came after that: one at Barbara's Bookstore in UIC (thanks to Victoria Dekoker), one (with record sales) at The Book Market in Glenview (thanks Rick Kotrba), at Grace Episcopal Church (where we welcomed so warmly), in Long Beach, CA (at the wonderfully supportive Gatsby Books–thanks to Sean Moor and Alisha Attella), at Evanston Public Library and Wilmette Public Library, at Woman Made Gallery where we were recorded for Chicago Amplified on WBEZ 91.5 fm (thanks to Beate Minkovski, Nina Corwin, Kurt Eric Heintz), and just last month to celebrate Poetry Month at The Book Stall in Chestnut Court (thanks to Roberta Rubin and her wonderful staff).
In addition to being recorded for radio, we have appeared on two radio shows (The Sunday Papers with Rick Kogan, and Wisconsin Public Radio with Ben Merrens).  There is another radio appearance on the horizon–more info on this appearance will be forthcoming. Stay tuned.
Solace in So Many Words has gotten good press.  A "Reviewer's Choice" in The California Bookwatch, the anthology  has gotten stellar reviews from ForeWord Reviews Magazine, The Midwest Book Review, The Portland Review of Books, Mindful Metropolis and other publications. The anthology was the subject of  a feature article in in the Pioneer Press newspapers (thanks Lilli Kuzma). Jason Pettus and Ben Tanzer have been kind too (thanks) and so have reviewers who posted on Goodreads and the Amazon pages.
Our book fair experience started with the Chicago Book Expo, continued with the Associated Writing Programs Annual Conference Bookfair (where I got to meet contributor Philip Levine, U.S. Poet Laureate) and will continue with The Printers Row Festival (June 9 and 10); our table will be in the Chicago Publishes Tent.  Stop by if you can.
It would impossible to list the number of great people the book has connected me to for there have been so many.  First and foremost are the talented contributors to the book.  Several local contributors have made almost every event, and because of them, our readings of Solace in So Many Words are tight and well rehearsed. A big shout out to: Joan Corwin, J. Scott Smith, D. J. Lachance, Kathleene Donahoo, Kathleen Kirk, Carol Kanter, Pamela Miller, Jan Bottiglieri, Pat Rahmann, Barry Silesky, D. I. Gray, Paula W. Peterson, Susan Cherry, Teresa A. Mathes and Aloka Kamicheril (daughter of Jayant Kamicheril).
Solace in So Many Words went over sublimely in Long Beach, CA, thanks to Donna Hilbert, Patti Wojcik Wahlberg, Lisa Liken and Teresa A. Mathes–what a wonderful trip Joan Corwin and  I had to the West Coast.  THANKS.
My gratitude also goes out to those writers who have let me post their work on the blog.  This year William Henry Channing, Kathleen Kirk, Laura Rodley, J. Scott Smith, Michael Constantine McConnell, D. J. Lachance, Constance Vogel Adamkiewicz, Shawn Misener, Susan Mahan, Charles Bane, Jr. and Cory Fosco have allowed me to post their words on this site. Also, Arnie Kanter, Victoria Dekoker, Brendan Coudal, Doug Stener, Kathy Buckland and Ellen McKnight have let me post their visual art–THANKS.  Also, E. Michael Desilets has let me share a poem with you today as a guest blog so check it out.
At every reading and bookfair event, I have met wonderful people, and I thank them for their interest, readership and well wishes. My list of thank-yous wouldn't be complete if I didn't mention my family, writing groups, and friends who have been incredibly supportive.