After participating in the Pop-Up Bookfair at The Empty Bottle last Sunday, I think all bookfairs should be at a bar. It was great fun–the patrons and sellers got mellower as the music amped up.
To my right were Gina Frangello and Leah Tallon representing Other Voices Books. In addition to publishing books like  Currency by Zoe Zolbrod and How to Hold a Woman by Chicago's own Billy Lombardo, Other Voices will be holding its first summer writing workshop, Other Voices Queretaro,  July 5-14  in Mexico's beautiful central highlands. Workshops in fiction and creative nonfiction will be taught by Pam Houston, Josip Novakovich and Rob Roberge.
I shared a table with John Wawrzaszek and other writer/artists from the Chicago Zine Fest. If you don't  know about Chicago Zine Fest, it is an independent event creating an outlet for small press and independent publishers to showcase their work.The goal is to make DIY zine-making accessible, highlight the talents of self-published artists, and give independent artists a chance to interact, and swap skills through tabling, community events, and workshops. The next Chicago Zine Fest will be held March 8 and 9 at Columbia College.
Also on hand were friends I had made at previous bookfairs such as Jason Pettus of Chicago Center for Literature and Photography (CCLaP).  CCLaP's books are one of a kind.  CCLaP's latest book is Famous Drownings in Literary History, Essays on 21st Century Jewishness by Kevin Haworth. I also wished congrats to Moira Pujols whose Revista Contratiempo just celebrated its 100th issue.
Catching my attention were a new literary magazine and a new poetry publisher. The magazine is related to food and is called
Graze,
which describes itself this way: "
Graze
is a semi-annual literary magazine based in Chicago's Logan Square neighborhood that focuses on what's on the table as much as the folks sitting around it. We're interested in the stories that food tells about us—after all, our collective and individual human histories were nourished by the food that we made, smelled, ate, threw up, fucked up, and loved. Our audience will likely be people who are interested in reading about people—and people who are interested in reading about food. This isn't a Martha Stewart publication—there will be no recipes, no tablescapes, no restaurant reviews. We're not trying to commodify food; we're trying to look at the ways food is in the background or foreground of politics, human relationships, locations, events, and so on."
Want to submit to Graze? Here's what editors seeks: "We'd like you to contribute some literary scribbles to our project. This could be … A piece of fiction—humorous, serious, or not quite either; a journalistic look at food politics; a poem; a play or scene; a pseudo-scholarly look at food in literature, history, music, or film; a creative non-fiction essay; a weird, surprising thing that you put together. We ask that written pieces be under 5,000 words. Graze issue three deadline: December 20, 2012."
The poetry publisher that caught my attention is Convulsive Editions, a micro-press that publishes affordable, well-designed chapbooks, broadsides, french folds, and other printed matter featuring lyrical writing that quakes and rattles. On hand at the table was Nathan Hoks, a poet whose book Reveilles was put out by the London publisher Salt Publishing.
Music at the Bookfest was provided by Good Evening, Wooden Wing, and Mr. Mayor  & Highballers who I particularly fell for since they performed my mother's favorite song "Frankie and Johnny."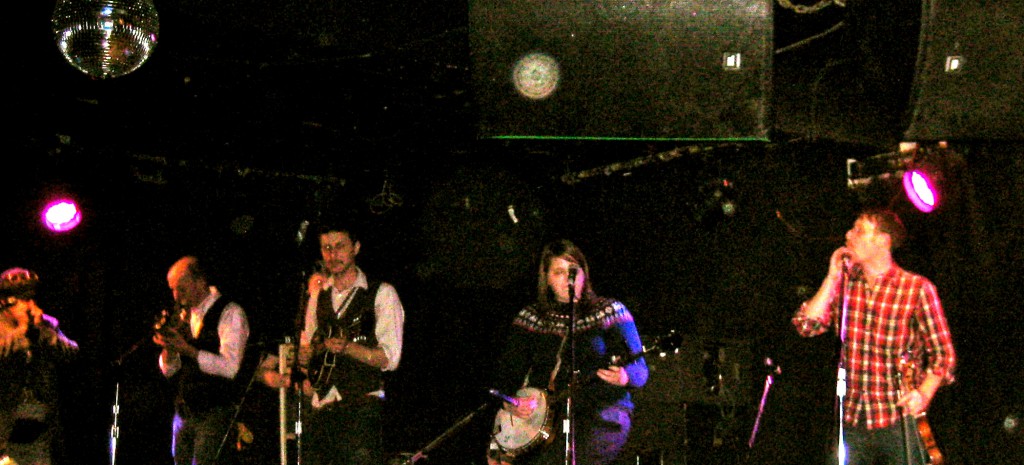 All in all it was fun a-poppin' at the Bookfair.  Big thanks to Victor David Giron of Curbside Splendor, Chicago Writers House and The Chicagoan.