Happy Poetry Month! Harumph, harrumph.
It's the smack dab middle of the month, also our tax deadline day, and in Chicago, the landscape is once again clearing from a surprise snow shower (see Glimpse of Solace). I wanted to share some stuff with you.
First, as I have before in this space, I recommend you drop in on Dave Bonta's poetry blog, Via Negativa. A recent post is "National Poetry Day is a failure." It will get you thinking. Dave links to the post "Against National Poetry Month As Such" by Charles Bernstein.
As long as Dave brings up the Pulitzer Prizes in his post, let me tell you the winner for a distinguished volume of original verse by an American author (receiving ten thousand dollars) is 3 Sections by Vijay Seshadri (Graywolf Press). It is described as  "a compelling collection of poems that examine human consciousness, from birth to dementia, in a voice that is by turns witty and grave, compassionate and remorseless. "
The finalists in this category were The Sleep of Reason by Morri Creech (The Waywiser Press), described as "masterly poems that capture the inner experience of a man in mid-life who is troubled by mortality and the passage of time," and The Big Smoke by Adrian Matejka (Penguin), described as an "imaginative work by a commanding poet who engages the history and mythology of larger-than-life boxer Jack Johnson."
Kathleen Kirk has six poems from her series on dancer Camille Claudel published in the latest issue of Menacing Hedge. They are graceful and poised and lithe.

Chicago poet Donna Vorreyer (author of A House of Many Windows from Sundress Publications) participates in her publisher's National Poetry Month playlist by contributing a post on one of her favorite poets, Jack Gilbert and his books.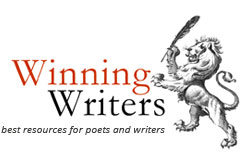 Do you get Winning Writers newsletter? If you do then you know that Arthur Powers is judging this year's Tom Howard/John H. Reid Fiction contest. It's the contest he won in 2008. His book A Hero for the People went on to be published by Press 53.  You can link to his story "The Bridge."
Peace, love, and solace