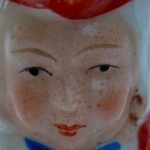 Hey there—hope you're having some summer fun.
For summer reading you might want to check out two recent publications by Kathleen Kirk.  She has a poem "We, the Impressionable" in One, which is a project by  by Jacara Press, "a community active press."
Also she has "Laundering Instructions" in Right Hand Pointing, a digital publication featuring "Short, poetry, short fiction and short art" for the past ten years.
Patty Somlo has a story "The Moment I Parted the Curtains" in Mused, BellaOnline Literary Review.
I enjoyed a profile of writer Scott Turow written by Robert Elder.  Scott Turow's Presumed Innocent was all the rage when it came out; everyone was reading it. His Kindle County rang true for Chicagoans. His latest book Identical probably will be too since it recounts a case similar to the mystery of the murder of Valerie Percy, which occurred in 1966 here in the Chicago area (in Kenilworth) and is still unsolved. It's a quote by Scott Turow that is the latest addition to Slice of Solace. (Just as an aside, I like it when Scott Turow mentions his mother Rita Turow. I got to know Rita Turow through The Writers; she was always so proud of him.)
Do you like cozy mysteries? You might want to check out the eight books in the Jane Wheel series by Sharon Fiffer. Plus she and her husband Steve Fiffer have produced several books together. They teach workshops too. When Sharon posted "Losing and Finding," I immediately saw how great a fit it would be as a Guest Post for this space. Thanks so much to Sharon for letting me share it with you.
This past week I was fortunate enough to do something touristy. I went on a Chicago Architecture Foundation's Boat Tour down the Chicago River. So great! But I won't bore you with all my pictures, just a few comprise Glimpse of Solace.
Ta for now. Go have some fun!
Peace, love, and solace