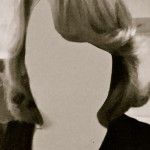 Hello, hello.
Almost August—can you believe it? I know I am old because time is passing more quickly, and not just because it's summer.
When I published Solace in So Many Words I made a decision not to include work that was overtly religious. There were several reasons for that.
But I know that God and religion and faith and prayer are all-important sources of solace for many people.
So today's posts reflect that.
Laura Rodley's poem "Meeting the Father" in the Guest Post talks about someone whose has devoted her life to God.
For Glimpse of Solace, we have photos by Kevin Nance; they're photos he has taken of the art, architecture, and people of his place of worship, St. James Cathedral in Chicago. He has said this place is one of great solace for him. I think you'll agree that this comes across in his photos.
These photos (and more) are currently featured in the exhibit How Lovely Is Thy Dwelling Place. It is at the Kyle's Place Gallery at the St. James Commons (as well in in the Cathedral nave); the address is 65 E. Huron, Chicago. The exhibit is open weekdays from 8:30 to 5:30 and 9:00 am to 1:00 pm on Saturday and Sunday. The exhibit ends August 15.
You can also see (and purchase) Kevin Nance's photographs at the Andersonville Galleria, 5247 North Clark, Chicago.
Thanks to Laura and Kevin for sharing their work and thanks to you for reading.
Summer days are fleeting so enjoy yourself. I'll catch up again when it's August. I am going to scoot now, to go work in the yard.
Peace, love, and solace