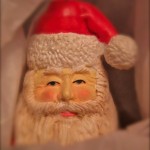 This morning I woke up, walked in my hallway, and saw a bright light. At first I did not know what it was. Then I remembered: This is sunlight.
Today is the first sunny day after some two weeks of gray. Sunlight restores the spirit.
Santa restores our spirits too. I've been thinking of Santa lately.  There is nothing and no one like Santa, nothing comparable. Santa is phenomenal.
Santa spans generations. Santa has been around for a long time and is beloved by people of all ages.
Santa crosses borders of all sorts and transcends cultural differences. Santa is widespread. Pros and antis of every sort can agree on Santa.
Santa is self-perpetuating. Once you're a child who grows up with Santa, you'll be telling your children about Santa too. Parents may debate other issues of parenting but Santa is a given. And it is furthermore a given that all parents everywhere are cool with Santa, if you know what I mean.
No one disrespects Santa; the person who has a bad word to say about Santa is called out for such aspersions.  To dis Santa would be as stupid as disparaging love as a concept.  It does not make good sense.
No matter how Santa is co-opted in advertisements or corrupted in off-humor, Santa's reputation remains untarnished, pure as the driven snow.
Santa packs hope. The days grow longer again and our benevolence shines.
I know I haven't thought of all of Santa's attributes.  It's likely I'll add some more later; maybe you have thought of something about Santa and want to share it.  Do tell!
Peace, love, and solace