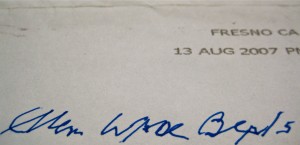 I just heard the news that Philip Levine has left this earth. The work he left behind is something we can find solace in when we miss his voice. So many great poems. I have fond memories of Phil Levine because he is a contributor to Solace in So Many Words, and we had a lot of correspondence about which poems of his to use. I felt like I knew him a little, that I could call him Phil. That's how he signed his emails: "Be well, Phil."
In spring 2007 I had an idea for an anthology. In addition to placing a classified ad for submissions and putting the word out through other channels, I wrote to well known authors whose work I admired and asked them to contribute. At the top of the list was Philip Levine. I found his address on the web in the Poets & Writers directory.
My letter to him began this way: "I don't know if it is your voice, the stories you tell, or the characters in your poems that I like best. Your narratives make me think I know your people or could. Your voice makes me want to. In a time when some poems are inaccessible and snobby, your poems are the ones that mean the most to me. "Burial Rites" in The New Yorker knocked me out."
He replied in a note July 27, writing, "I believe a book of solace world be useful right now. I don't believe I've got anything on the theme that's unpublished. . . When you say unpublished do you mean not in a book or never in print? I own the rights to a good deal of my work much of which has appeared in magazines. . . Good luck and thanks for asking."
I wrote him back, explaining, "I was excited to get your letter and read that you think the solace anthology is a worthwhile project.  So far I have had some positive responses. . . . As to using a poem that has already been published, I would be so pleased to include any of your work in this book.  You could send me your grocery list and I would want to use it."
In August he replied in a letter, saying, "Thanks for your letter. I was touched. But you don't want anyone's grocery list unless you want to take solace in red meat & wine. As I do." He enclosed a copy of "Burial Rites" as well as "Blood" and "Of Love and Other Disasters." In the post-script he notes, "Here are some poems you could have for nothing. I also have longer ones."

Wow. I was blown away to receive the letter; the poems printed by his own computer, his chicken scratch in pencil saying where they had been published.  Of "Love and Other Disasters" and "Burial Rites" appeared in The New Yorker. On the copy of  "Blood" his penciled notation reads "Published but I forget where."
It took three years to get the project really going, and by that time, his poems were published in a book (News of the World) and the publisher was asking more than I could pay to reprint them. We had a lot of back and forth emails on what the publisher would charge. I don't think it would be controversial to say that Phil at times had a contentious relationship with his publishers and what they charged people to reprint his work. Maybe as Phil was the poet of the working class, it was inevitable that he should be at odds with any big business, even his own publisher.
He suggested I might want use a poem that that he owned all the rights to. That sounded like a good idea, especially as it was a way to get readers to see some of his earlier (and less known) poems. So I spent a good couple days reading his work, trying to find his first books, On the Edge, Ashes, Unselected Poems, and scouring the web.
Poems I loved and mentioned to him: "Asking," "Voyages," "Night Thoughts over a Sick Child," " A Sleepless Night,"  "Premonition at Twilight," "Gospel," "Theory of Prosody" (which I listened to on audio file), "Distant February," and "Where We Live Now" (my favorite lines: "she smiles at you, and you think / tears will start from the corners /  of her mouth. Such a look").
I wrote that I wanted to keep reading and that I'd get back to him with selections. I was keen on the idea of publishing something less familiar to readers, my rationale being, as I explained it to him, "so to publish other poems of yours might provide them [readers] with more of a treat."  To which he replied: "I take pleasure in your attitude . . .. What will I charge? I would like a bottle of very good Armagnac."
Meanwhile he was working with the publisher to get the reprint rates down and he even offered to waive his own share of the royalty, but by that time I was enthusiastic about sharing earlier and less well known poems of his. It appealed to Phil too: "I like what you're doing: searching for the under-recognized poems."
On November 17, 2010, he wrote back: "It's your anthology & I'm glad to give you anything you choose. Let me suggest you look again at "Songs," the poem about Billie Holiday &-of course—me. Also the poem "Waking in Alicante" is also a poem about "solace." But I will go with anything you choose from this book. There's nothing in the book I'm ashamed of."
So that's how it came to be that "Songs" and "Waking in Alicante" are included in Solace in So Many Words. As to payment, I could not allow him to give them to me for free. So I gave him an honorarium, and a bottle of Armagnac.  I had never heard of it before, and called my local fancy wine shop to learn it was a spirit, not a wine, and as such could not be sent interstate. So I contacted a liquor store in California and had a bottle of Basque Bas Armagnac 1982  delivered to his home address in Fresno. It cost $49.95. I guess it was okay because in January 2011 he sent me an email saying it was "Wonderful brandy, the best I've had in 20 years."
When Solace in So Many Words came out May 12, 2011 and he had received his contributor copies, he wrote me an email, some of which I'll quote:
"The production is very nice; it looks the way it ought to look, not flashy & not dull . . .. I haven't read all of it as yet, but I've found some fine writing, & not just from the well-known writers like Boyle & Ellen Bass. I found new names who are really interesting & one very old one –a former student I hadn't read in 20 years–, Dennis Saleh.  Daniel Chacon, Kerry Langan & Dan Sklar in prose. And poets Engle, Bottiglieri, Rodley, Silesky, Swist. I'm sure before I've read it all I be thankful for other voices. Thank you for making this possible. Be well, Phil PS—You wrote a wonderful introduction."
I was thrilled. And for him to mention my introduction was gratifying because it had been a pain-staking writing process for me.
On August 10, 2011 Philip Levine was named the Poet Laureate of the United States. I joked to  friends that it was his appearance in Solace in So Many Words that must have done the trick.
The AWP annual meeting was in Chicago in 2012. Carol Anne Duffy, Poet Laureate of the UK, and Phil Levine were featured readers.  I went to hear him read and to meet him afterward. Another thrill for me.
How glad I am to have his poetry, to have had this experience of publishing one of my idols.  I'll never forget his generosity.
Keep well.
Peace, love, and solace