"One More Thing," this wonderful poem by Lesléa Newman, seemed to me to segue very well from the last guest post, "Smoking" by Laura Rodley.
On first reading this poem made me think of the past.  Subsequent readings made me think of the present.  I know it will make you think too.
Thanks again to Lesléa Newman for letting me share her work here.
ONE MORE THING
My mother crept downstairs at night,
(I made believe I was asleep)
She didn't bother with the light,
Her need for solitude ran deep.
She smoked a cigarette or two,
She drank a tepid cup of tea
And then with nothing left to do,
At last she let herself just be.
For hours lost in thought she sat
The kitchen quiet as a grave,
Was she content or sorry that
for years she gave and gave and gave?
I missed my chance to ask her so,
That's one more thing I'll never know.
© Lesléa Newman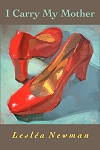 Lesléa Newman is the author of 65 books for readers of all ages including the poetry collections, Still Life with Buddy, Nobody's Mother, Signs of Love, and October Mourning: A Song for Matthew Shepard (novel-in-verse) which received a Stonewall Honor from the American Library Association. Ms. Newman's literary awards include poetry fellowships from the National Endowment for the Arts and the Massachusetts Artists Foundation; the Burning Bush Poetry Prize; and second place runner-up in the Solstice Literary Journal poetry competition. Her poetry has been published in Spoon River Poetry Review, Cimarron Review, Evergreen Chronicles, Lilith Magazine, Kalliope, The Sun, Bark Magazine, Sow's Ear Poetry Review, Seventeen Magazine and others. From 2008-2010 she served as the poet laureate of Northampton, Massachusetts. Currently she is a faculty member of Spalding University's low-residency MFA in Writing program. Her newest poetry collection, I Carry My Mother was published in January 2015 by Headmistress Press. You can buy it on Amazon.
Want to lean more about this poet? Here is a link to Lesléa Newman's website.
BIG thanks once again to Lesléa Newman for allowing me to share her work with you.