Mother of You
I am the goddess of lasagna,
says my son. I think about this
as I layer the marinara
and ricotta over sheets of noodle,
hopeful I'm able to live up to his praise.
I don't know what makes me look up,
peripheral vision, perhaps some womb-like instinct,
the pull between two places in proximity –
But the forms are there in the open,
white-chested dancers, tawny,
sloping necks, intent on food.
I leave the wooden spoon soaked in sauce,
fixate on the small herd.
Sliding into the chair I lean in close
to the window,
hands coming to rest on my damp-aproned lap.
The creatures tug at last year's grass,
black velvet muzzles forage,
and the rituals of winter's kitchen are quiet but for the
collected and layered impressions they've made,
rising like old friends from the dusty mullion.
The animals lift their heads,
pause with statuesque stares,
scenting, ears calculating…
How do they stay warm out there?
Will they survive? When did you become a man?
A pebble drops into some vernal pool,
concentric ripple through Spring's earth
washes up and laps over this kitchen floor.
And the lissome figures spring into space,
ebb past the deep thickets and deeper,
bodies disappear into the woods
that protect and swallow up at the same time.
The distant rasp of tires mash
and push closer through gravel and mud –
You have arrived.  I run to the door.
© Bonnie J. Toomey, 2015
Blogger, essayist, and columnist, Bonnie Toomey ruminates myriad issues facing families today. When she's not delving into her graduate studies and teaching writing at Plymouth State University, she's whispering poems into her grandson's ears. Her limns are in The Penwood Review and The Bay State Echo. Her essays, op-eds, and feature articles have appeared in Parenting New Hampshire and Baystateparent Magazine, and are published weekly in the Fitchburg Sentinel & Enterprise.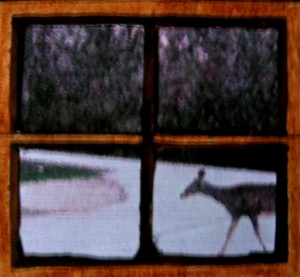 Thanks to Bonnie J. Toomey for letting me share her work.