Sometimes I come across things that aren't necessarily solace-y but I want to share anyway. They amuse me somehow.
Such is the case with a definition I came across. It's from the article "Why It Pays to Be a Jerk" written by Jerry Useem in the latest (vol. 315, no. 5) issue of The Atlantic. The lengthy article considers all the facets of success, jerkiness, and niceness. I was particularly happy to read a specific citation, which quotes Aaron James from his 2012 book, Assholes: A Theory (2014, Penguin Random House), and which defines the term:
"'The asshole (1) allows himself to enjoy special advantages and does so systematically; (2) does this out of an entrenched sense of entitlement; and (3) is immunized by his sense of entitlement against the complaints of other people.'"
Thanks for defining this for me. I don't know why exactly but I find it useful; maybe you will too.
The second thing that tickles me concerns the blur of censorship. Let me explain.
I've taken to watching MHz for its International Mysteries. There's a series from France that's based on Georges Simenon's famous detective Jules Maigret (as played by Bruno Cremer). If my research is correct, this series began in 1991 when these episodes were filmed. In "Maigret in Montmartre" the Inspector investigates the murder of a stripper. At one point they are at the strip club and the anatomy of the dancer in the background is blurred. In another episode, "Maigret and the Judge" the judge's daughter is not right in the head and when Maigret enters her room, she does not have the sense to cover up. Her chest is blurred.
It cracks me up that these episodes were fine for France almost 25 years ago but today they are blurred. Maybe that's due to US regulations or maybe it is because of international standards. Whatever. It still seems funny to me that a breast with a nipple is blurred; it seems so mild compared with other subject matter (like violence) that is on TV. Janet Jackson's wardrobe malfunction was 11 years ago, but things haven't really changed since then.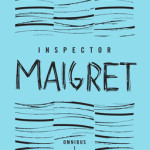 In looking for the link to MHz Networks, I learned that Penguin Random House has recently come out with Inspector Maigret Omnibus: Volume 1.  Another book I may have to check  out.
Happy weekend to you.  BTW, it's National Donut Day; hope you score a free one. (And when did the preferred spelling become donut as opposed to doughnut?)
Peace, love, and solace