Happy Autumn!
Big congrats to Solace in So Many Words contributor Joe Meno who has a new book (his ninth). It's called Marvel and A Wonder (from Akashic Books).  It's gotten great reviews from various readers, from MTV News to Library Journal.
Booklist gave it a starred review: "Evoking William Faulkner and Cormac McCarthy, Meno's suspenseful, mordantly incisive, many-layered tale can also be read as an equine Moby-Dick. As he tracks the bewildering seismic shifts under way in America, Meno celebrates everyday marvels, including the hard-proven love between grandfather and grandson."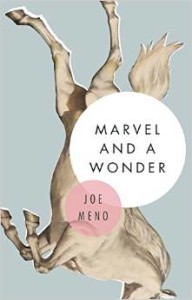 The New York Times also had great things to say; Mary Miller concludes her review by noting, "Meno knows how to make you love his characters, want what they want. But don't think he's going to let things turn out well for them. Marvels and wonders aren't worth the trouble. Fortunately, this book is."
I can't wait to read it.
I knew Garry Cooper as a  FB acquaintance who posts witty observations. He mentioned that his essay is a finalist for the Notting Hill Editions Essay Prize, and I commented how I'd like to read it. I am glad I did.  Published in Triquarterly January 2014, "Hope at the Edge" will make you think about your life in today's world, and how to make sense of it and find solace.  As a matter of fact, I may give it another read soon. Good luck to Garry; I now know he posts witty observations and is a terrific writer and thinker.
The new US Poet Laureate Juan Felipe Herrera announced his ongoing project, La Casa de Colores,  begins with La Familia, an epic poem that will run the span of Herrera's Laureateship. And you can contribute to it. Follow the instructions and use the form here. The theme for September 15 to October 15 is "Family Words and Story Poems"  The call for submissions asks you to: "Write up to 200 characters about family as you see it, as you experience it. This can be family in any form: your immediate family, the family of your dreams, the family of your friends, or a family that only lasts seconds. Use "family words"—words that are as close to you as family—and bring a new word or two, that you don't yet know, into this month's family of words."
Peace, love, and solace