Last week was National Suicide Prevention Week.   I should have posted this poem then. No matter.
I offer it to anyone who has screwed up, to anyone who feels shame so deep they don't know how to get out from under it.  I'm rooting for you.
Commiseration
This poem is for those who have whispered
in desperate urgency:
"Let me get away with it this time."
Perhaps finished this invocation
with a promise to change:
"Lord," you may have called upon
a power greater than your own,
"Don't let anybody find out."
"Let it all be okay."
"Let me slide."
"Just this once."
I have offered to the universe my wobbly fate.
To whatever power casts the lots
I have pled my case, appealed and begged
not just for forgiveness,
(All day long I relived my stupidity,
my lapse, my bad judgment, the mistake.)
but to let it slide – to let this blunder go
unnoticed, like:
the tipsy driver who makes it home safe,
the thief who gets the goods,
the user who has this one last time;
shame that's never exposed to light.
Maybe you're in a car,
on an airplane,
or behind the dark of your own closed eyes,
and you implore, with all the mindfulness of a mantra:
"Please, please,
please let me get away with it this time.
I'll never ask again."
"I am a screw up," you admit,
own it, call yourself out,
"but, please,
please let it turn out okay
in the end,
this one time."
For the burnout in the stall copping the buzz,
the mother who leaves her kids alone for just fifteen minutes,
the big talker who's got the score to settle all scores,
and that kid who books without so much as a call;
for knowing it's bad and doing it anyway.
For anyone on their knees
supplicant and ashamed, guilty,
this poem is for you.
Not that it matters,
not that a poem is what you need,
but because it is the only way
I have to reach across this page
to let you know
it may not be easy to find your way back,
but try.
Try.
And if you can't, this poem is still for you,
I'll never take it back,
because it might be all that you've got.
Someone wrote a poem for you once.
© Ellen Wade Beals, 2012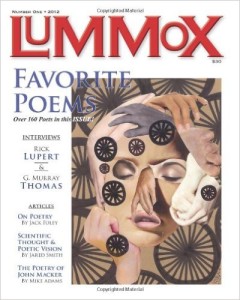 This poem originally appeared in Lummox, Number 1, 2012.