Hey there. Hope your Christmas/Hanukkah/Kwanzaa/Festivus was wonderful. The end of the year always brings out the "best of" lists. Solace in So Many Words contributors made a few of these
T. C. Boyle's novel The Harder They Come was named the best novel (700 pages or shorter) by Newsweek.  It was also named one of the best books of the year by The Express, by the San Francisco Chronicle, and other publications.  Also this year, T. C. Boyle  served as guest editor for The Best American Short Stories.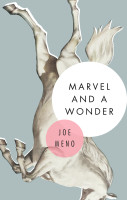 Joe Meno's novel A Marvel and a Wonder  was listed on the  "Reviewer's Choice: Our 2015 Favorites" by Foreword Review and named one of the best fictions books of the year by the Chicago Reader.
The New York Times Magazine "The Lives They Lived"  feature includes  a nice remembrance of Solace in So Many Words contributor Philip Levine, who passed away this year. "Communicating with my father through verse" is written by Natasha Trethewey.   Here's a quote of Phil Levine's that was featured: "I think poetry will save nothing from oblivion, but I keep writing about the ordinary because for me it's the home of the extraordinary, the only home."

Patty Somlo has a new story called "Off Season" in the winter issue of Mused, Bella Online Literary Review.  Here is the link.
Writers who have contributed to this site have some new publications in 2015. Daniel Cleary has a new book of poems. It's called A Few Stray Leaves and it's published by Paul Ryan's Lagoons Editions.  The book is so new that there has not been an official book release for it yet.  Daniel describes the book this way, "Overall, it's a looking back, somewhat elegiac in tone, with separate segments relating to Chicago, London, and Ireland."
In 2015,  Lesléa Newman had two new books for children. One is called My Name is Aviva (Karb-Ben Books) and the other is called Ketzel, the Cat Who Composed (Candlewick Press).
If you want to read about all the trends in the literary world, consider  "The 50 Biggest Literary Stories of the Year" on lithub.com.  It is a multi-part article,  the link here lists numbers 50 to 36.
I was not familiar with the Literary Hub. Here's how it's described: "Literary Hub is an organizing principle in the service of literary culture, a single, trusted, daily source for all the news, ideas and richness of contemporary literary life. There is more great literary content online than ever before, but it is scattered, easily lost—with the help of its editorial partners, Lit Hub is a site readers can rely on for smart, engaged, entertaining writing about all things books. Each day—alongside original content and exclusive excerpts—Literary Hub is proud to showcase an editorial feature from one of its many partners from across the literary spectrum: publishers big and small, journals, bookstores, and non-profits."  I think I'll have to bookmark this site.
Well, that's all I got, except to say HAPPY NEW YEAR.
And, peace, love, and solace