Hello. Hope your Spring has sprung. Here in Chicago we have not quite gotten to warm weather yet. And the news seems to be that other areas of the country have also experienced a return to winter. I guess we should expect April to be harsh for as T. S. Eliot told us: "April is the cruellest month, breeding / Lilacs out of the dead land, mixing / Memory and desire, stirring / Dull roots with spring rain." BTW, Happy Poetry Month.
Cuban-American author Margarita Engle has an untitled tanka in Solace in So Many Words, but she is better known for her many award-winning verse books, such as The Surrender Tree, The Lightning Dreamer,  Drum Dream Girl, and, Enchanted Air, which is the winner of many awards, including an inaugural Walter Dean Myers Award Honor, awarded this past March. Congrats!
Last Mother's Day I featured poems here from I Carry My Mother by Lesléa Newman. She also wrote the book October Mourning: A Song for Matthew Shepard and recently poems from this book have been used in Considering Matthew Shepard, an oratorio composed by Craig Hella Johnson. To learn more, here's a review of a recent production. Kudos!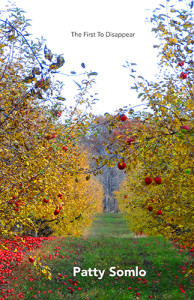 I am so excited for Patty Somlo. Her first book The First to Disappear is now out from Spuyten Duyvil. Here's how it is described: "The eighteen stories in The First to Disappear offer a new literature that reflects back to us the rapidly changing circumstances of 21st Century life. Moving, yet often funny, Patty Somlo performs magic, slipping seamlessly into the heart of hot-button issues—immigration, terrorism and climate change—while borders between nations and the animal and human realms disappear before our very eyes." Yay Patty!
Also, Patty Somlo has a story "Time to Go Home" in R.KV.R.Y. Quarterly Journal.
Donna Hilbert has three poems in Verse-Virtual.
Some time ago I came across the poem "Dangerous for Girls" by Connie Voisine and I was so taken with it that I had to read it for an audience at the next chance I had (which was a reading at Woman Made Gallery).  At the end of March, Daniel Chacon ("22 Hiding Places") spoke with her on his radio show Words on a Wire.
"Deceiving the gods"a poem by Ellen Bass (from her book Like a Beggar) is in the Jewish Journal.
I have three photographs in the latest issue of Olentangy Review. (Thanks for taking a look.)
Looking to submit your work? 3Elements is looking for work with these three elements: Labyrinth, Trace, and Reflex.  You have until April 16 to submit to Subprimal Poetry Art.  Minerva Rising will be doing an issue on fathers.  Pithead Chapel seeks gutsy narratives.
Looking for more info on poetry, such as prompts, teaching tools, and essays? Check out Tweetspeak Poetry.
Okay, that's enough from me.  Peace, love, and solace