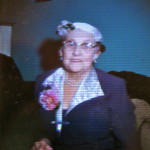 I haven't been posting a lot but I have been thinking about life events and the end of life. I got a little crabby the other day. Is it the weather? Midsummer blues? Aging? Just impatience and frustration on my part? That's what has been on my mind lately.
One of my siblings is moving and came across these printed cards. They are poems written by my grandmother Bertha L. Wade.
She lived to be well into her nineties. Almost all her children (including my father) predeceased her. Nana, as we called her, lived with her daughter Sue and Sue's family in Lake Forest. After Nana died in 1970 Aunt Sue made these cards and gave them to us so that we might remember Nana's poems.
My cards are tucked away some place very safe in a shoebox of mementoes in the crawlspace or basement.
I would guess my love of writing might be related to my grandmother's love of writing. And it seems I might think about death just as she did. Now when people in my age group are facing their mortality, I think of about death and the meaning of life more than ever.
When I considered my grandmother's poems I often thought of them as being similar to Edna Vincent Millay's work in that they both use drama as a poetic device.
I share these poems here because they may bring solace.
I give you the cards as printed. I also share the work as I think they might have been. I think the spacing got problematic on the card for the poem "My God" and that the lines got mixed up.
My biggest question, and here's where I'd love to hear what you think, concerns the penultimate line of that poem.
As it appears on the cards it is: "You've been faithful in few things" whereas I wonder whether it ought to be "You have been faithful in a few things."
What do you think – should there be the addition of "a'?
Peace, love, and solace
Petition
Please dear God – I ask of Thee,
To hold my trembling hands for me.
While the last hour of life is mine.
Hold them tightly close in Thine
If restless they may become
Let me me breathe – Thy will be done.
When earthly things I cannot see
Dear God—Please smile to me.
Then will I know my soul is Thine
And peace, everlasting peace, eternally mine.
Bertha L. Wade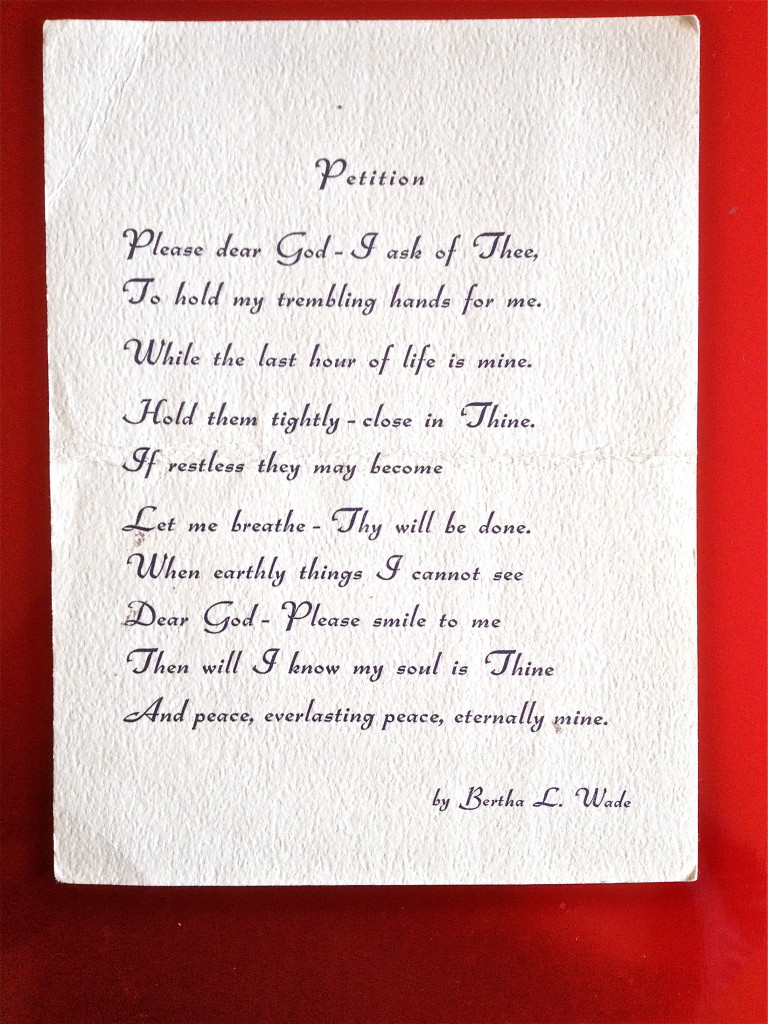 My God
When my soul takes its flight in darkness or in light,
To waken from my last long sleep.
Remember me as you did the dying thief.
The promise of Paradise and this day to meet
If I am alone to stand or
Kneel at your sacred throne.
See my grief – hear my cry
My Lord, my God, Don't pass me by.
Take Thou my hand – let me he hear Thee say.
You've been faithful in few things,
Come my way.
Bertha L. Wade