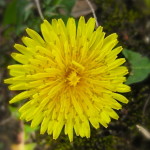 Hello friend.
If you are a Chicago area poet you may want to check your files and see whether you have any writing on the environment.  That 's because Woman Made Gallery (WMG) has a call for poems on this subject. The submission deadline is April 28 and the reading is June 11.  Here are the specifics, reported verbatim:
"Call for Poetry: Woman Made Gallery Literary Series
Deadline: Friday, April 28 at 11:59 pm
Theme: ENVIRONMENTS
Reading: Sunday, June 11, 2017, 1:00 – 3:00 p.m.
Place: 685 N Milwaukee Ave, Chicago IL
ENVIRONMENTS
"If you don't know where you are, you don't know who you are." -Wendell Berry

Say environment, and many of us will think first of the natural world, of climate, how we impact and are impacted by it. We may think of natural resources, finite or infinite and our use/misuse of these resources – especially in this crisis point where economic and political forces are threatening the planet.
Beyond that, we are looking for work that explores environments in the broadest sense, be they natural or human made, urban or pastoral, welcoming or hostile, public or private spaces, the environment of home, workplace, classroom. This may even include virtual informational and social spaces such as the internet, the media, social networks, etc. How do our surroundings, physical or otherwise, influence the way we feel, think, and interact with the world?
Please send 4 – 6 poems on the theme ALONG WITH a 50 to 75 word bio, IN THE BODY OF AN E-MAIL to < poetry AT womanmade DOTorg > by Friday, April 28 at 11:59 p.m.. We will make every effort to inform those chosen of our decision by May 8. Although we can't afford to pay readers, this is a great opportunity to sell books and read with other talented people in a very special environment.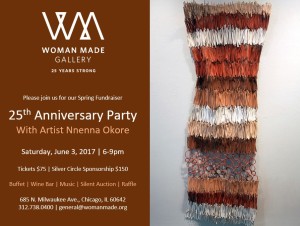 Selections will be made with an eye to assembling a program that represents a diversity of poets, styles, and approaches to the theme. Selected poets MUST be available to read in person."
BTW, 2017 is the year of WMG's 25th anniversary. There are big plans to celebrate with an art-filled evening of fun, food and inspiration.  Woman Made Gallery's 25th Anniversary Party is Saturday, June 3, 2017 from 6 to 9 pm. Maybe I should meet you there!
Peace, love, and solace