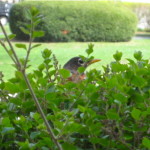 I can't let January end without posting. It's been a tough month for some, what with the flu, the current news, and the fact that there were five Monday mornings to wake up to in January.
Tonight three lunar events take place: a blood moon, a super moon, and a blue moon, giving us a Super Blue Blood Moon. Unfortunately Chicago is not well-placed to witness this rare event.  But I'm hoping the moon will still have its positive effect on us!
I've been hibernating. I know a lot of people are – it's a way of coping with the harsh world environment. But the days are getting longer. February is only days away. If you've been stumped creatively, stymied by whatever, laid low by January, I am hoping that February is when your ideas come home to roost.
In my effort to share public domain poetry, I present this fine short poem by Stephen Crane. And to fill space, I've posted some of my bird pics. None are flying away like little thoughts. The birds are perched. Let's all get our ideas on paper.
LXV [Once, I knew a fine song]
Stephen Crane
Once, I knew a fine song,
—It is true, believe me,—
It was all of birds,
And I held them in a basket;
When I opened the wicket,
Heavens! They all flew away.
I cried, "Come back, little thoughts!"
But they only laughed.
They flew on
Until they were as sand
Thrown between me and the sky.
Stephen Crane (1871-1900)
BTW, I got this poem at Academy of American Poets site – check out the site for more inspiration.
I'm hoping to read, write, create, and recreate in  February. How about you?
Peace, love, and solace