Hey there. It's already the fifteenth of February and I haven't checked in with you yet this month. That's because I have nothing new to report about me. But here's what's happening with some people we know.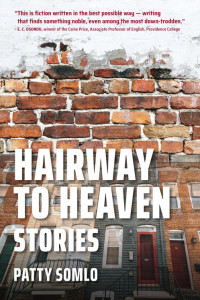 Big congrats to Patty Somlo for Hairway to Heaven, her latest book. It is available from Cherry Castle Publishing. Here's how it's described:  "The interconnected stories featured in this book specifically, boldly, and tenderly are rooted in her experiences living in many African American neighborhoods that are beginning to gentrify. Her characters are unforgettable and her narratives ring magnetically true."
Barry Silesky has three poems—"The Idea," "Storm", and "The One I Love"– at Boomer Lit Mag. They are characterized as "mystery with a familiar sounding voice." Here are a couple lines that got to me: "Even now the time we've hoped for is coming. I say I'm ready, but the moment won't last. Nothing does, and this time when the phone rings I'm going to answer." Check them out here.
Is it winter weather where you live? Then you'll relate to Laura Rodley's poem "Day Runners," which appeared February 11th at the New Verse News.  Laura also took the photo that accompanies her poem.  Read the poem here.
I haven't been able to place any writing this past month. I got a very nice rejection from an agent regarding my novel. I thanked her for it because it was encouraging. I try to write a thank-you note whenever I get a rejection but sometimes I flake out. What about you – do you write a thank-you for a rejection?
I did receive an acceptance for one of my photos. I'll give you the link when the post is up. Last weekend was a big snow here. Usually I use the white snow as a backdrop for winter photos. These days though I'm the lucky caretaker of a dog so the smooth white canvas doesn't remain undisturbed for long. I managed to get in some pics and I share them with you.
Peace, love, and solace