Hello.  Happy October to all.  Some would say the month started off with a dumpster fire of emotions. The Kavanaugh hearing on Thursday September 27 has left many of us feeling out of sorts.
There is enough commentary on this situation so I won't fuel the fire. Instead I'll use this space to promote two new placements of mine.
I had the pleasure of writing a poem on commission for Facèré Jewelry Art Gallery, specifically in response to a beautiful glass bead necklace and earring set made by Jenine Bressner.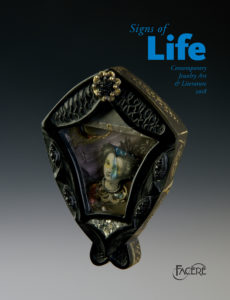 Facèré publishes Signs of Life, a combined contemporary jewelry art exhibition and literary journal featuring the work of nine jewelry artists and nine published writers. Their work is paired in a unique publication celebrating both literary and jewelry arts. This is Signs of Life's 14th year of publication.  I am so grateful to be included — thanks to Karen Lorene and Madeline Courtney and to the artist Jenine Bressner for creating an inspiring work of art. The Signs of Life Exhibit opens tomorrow, October 3, and goes to the 23rd; there is a reception Wednesday, October 10, at 5 pm.  Facèré Jewelry Art Gallery is located at City Centre, 1420 5th Avenue, #108, Seattle, 98101.
I also had the pleasure of seeing my work  published by LitroUK as a FlashFriday feature. Opposite in tone to the love poem I provided to the gallery, this prose piece "This Will Be the Last Time" is on the topic of addiction.  Thanks so much to editor Catherine McNamara for choosing my work.
That's all for today — Peace, love, and solace