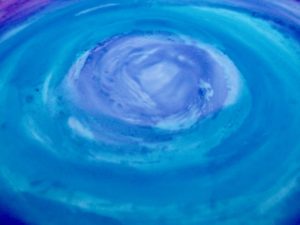 Happy July!  Hope it is lucky for you. And, happy 4th of July. Hope you have some fun.
And to my fellow Moon Children, HAPPY BIRTHDAY. Here's a poem I wrote twenty years ago, but I still like it.
Peace, love, and solace
July begins
The day before I turn 41
I brood, wash dishes,
think how my husband and sons
have taken no time to shop,
how I hadn't seen my boys
scurry away with crayons and paper
to make–all I asked for–a heartfelt card.
I clean the toilets,
try to rid the blue bathroom
of that pissy smell,
think this is my station in life,
kneeling before dirt, cleaning.
I'm stern with the kids,
never yelling, but always under my voice
is that tone–it keeps them
from arguing when I order beds be made
and laundry sent down the chute.
I reason it is my period coming
or my birthday tomorrow,
that makes me feel
old and suburban and unfulfilled,
a messy home despite my housekeeping,
a husband whose work is more demanding
than I care to be,
and kids who are growing away
before I'm done needing them.
The next day
breakfast is great–
a plateful of pecan pancakes
with the boys and then we talk
about the man we saw the other day
who yelled at a woman and her kid
in the parking lot at the shopping center,
about Mike Tyson biting Evander Holyfield,
about reining in impulses
and why parents must teach compassion, civility.
They do not squirm too much,
even keep up their side of the discussion.
Then we're off to the lake
with the new beach chair
my husband had bought and left
with a bow in the kitchen.
It's a deluxe model with cooler,
drink holder, and backpack straps.
We're the only ones
swimming because the water is 60 degrees
The boys say it's so cold
it makes their balls hurt
and they play in the sand to warm up
until we go home for lunch,
sitting around the table in our damp suits,
eating pickles out of the jar,
chips, and salami sandwiches.
After lunch they watch tv
and I read the paper and drowse
until their dad comes home to leave me
to a peaceful bath while they shop
for cards and cake. Dressed, I take the dog
for a long walk and when I come home
my son's at the computer,
making his gift, a sign that says
"Mom Kicks Butt."
My other boy runs to get a familiar pink box,
"White Shoulders,"
they had bought at Walgreen's.
The college girl from down the street
watches the kids while Dave and I
have supper at an Italian restaurant
and we never run out of conversation
and we don't just talk about the kids.
I have steak with Portobello mushrooms,
something no one else in my house likes.
By the time we come home,
the kids ready for bed,
crowd around the kitchen table,
put their arms around me, and
I rub their smooth tanned backs.
They make moony faces at their father
but he doesn't comprehend their signs
so one of them asks
about the dessert–banana cream pie,
my favorite. They light the candles,
darken the room, sing to me.
The pie is there before me–
what could I wish?
© Ellen Wade Beals, 1997