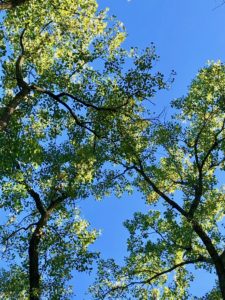 I can't let the month of September go by without one post. So I'm sharing a photo from Laura Rodley with the hope that it inspires me to stay busy (as a beaver). Thank-you Laura for sending this photo!
This month I continued to write and submit and my writers group (The Writers) started up. The Writers is looking for new members. So if you live in the Chicago area and can meet Wednesday mornings, think about applying. Let me know if you have questions.
Also in September I went to Max and Benny's for an author night (organized by Richard Reeder). The author who spoke is Beth Finke and she has a new book (Writing Out Loud) on teaching memoir writing to seniors.
Self-reverential though it may be, I share here "September can be vibrant," which originally appeared on Foliate Oak Literary Magazine, and "Autumnal equinox," which I posted on this site five years ago.
What's new with you?  Busy and productive?
Peace, love, and solace