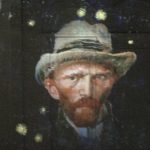 Tuesday was a beautiful day in Chicago, which was restorative and lovely. Also lovely and restorative is the Immersive Van Gogh at Chicago's Germania Club. It is the first cultural event I have gone to since the pandemic started. In some ways, it was not business as usual; temperatures were scanned, everyone was masked, and circles were marked on the floor to show us where to stand six feet apart. But in some ways it felt like a welcome return to normal.
Maybe the event seemed even more comforting as it swaddles you in the art of Vincent Van Gogh, from head to toe. At times the immersive digital art experience made me feel as if I stepped into a painting. Day seems to break and the sun rises when we encounter the Sunflower paintings (Les Tournesols, Sunflowers, 1888) and Edith Piaf serenades us with "Non, je ne rerette rien." (Btw, this song alone with Piaf's strong voice, the orchestra's lush accompaniment, and the confident lyrics, is a mood-booster just on its own.)
At other times, I felt like the artist himself, outlining the furniture is his Arles bedroom (La Chambre à coucher, The Bedroom, 1889) or growing irises from the root up. We sat through three showings and each time found something new. The exhibit is designed and conceived by Massimiliano Siccardi, with soundtrack by Luca Longobardi. Many thanks to them. My photos don't capture the true experience. And of course, I am most grateful to Vincent van Gogh.
Peace, love and solace