Susan Perry who has a great blog on creativity (Creating in Flow) at the Psychology Today site asked me to participate in a Blog Tour.  It's a way to introduce you to my writing process and two or three other creative people (I feature two). The Blog Tour asks that I answer four questions about my writing process.  And I will, but let me tell you a little more about Susan Perry. She has a novel, Kylie's Heel, and a website so be sure to visit them also.
Now to the questions, the first of which is: What am I working on?
I begin some days by asking myself this very same question. I am working on a lot but nothing to brag about.  I've begun some poems. I am sorta/kinda working on my novel. For the umpteenth time I have gone over the first two chapters. But I am still unsure of the quality of the writing or the tale. Sometimes I chide myself that if I could give myself a deadline and put my head down and work to the finish, I'd have a novel, one that I think qualifies as New Adult, that genre recently dubbed to describe books too mature for YA but about characters of that age group. Since my novel is a coming of age story, it could be considered New Adult. Of course for it to be considered anything it has to be completed.  In the past month, I also have written a new short story and significantly amended another.  And I have given more priority to my blog; Monday and Tuesdays are usually taken up with that.
How does my work differ from others of its genre?
Wow, this is a question I have never thought about before. I have aspirations for my work, whether it is fiction or poetry, and that is that it be accessible, which I know is not always an admirable trait these days. But I don't want the accessibility of my work to come from it being dumbed down. On the contrary I want my work to be sophisticated, to have deeper meaning than what is written on the page, to stay with the reader long after he or she has read it. I don't write for poets or other writers; my ideal reader is the everyday person. Maybe he or she doesn't read poetry often. Well, if they pick up one of my poems, I want it to invite them in. Or if they pick up a prose piece I've done, I want them to be entertained with a story, maybe something quirky, maybe something heartfelt. But whether this distinguishes my work from others of its genre,  I am unsure about that.
Why do I write what I do?
To be honest, a large part of it is that I have a compulsion to write. I don't think I could not write. Sometimes, especially when life events have taken priority, my writing fields have been fallow ones. But when I come back to writing, I love it even more and I always come back to it. Although I do sometimes use deadlines to spur me on, most of the stuff I've written has not been for any other reason than the thought occurred to me.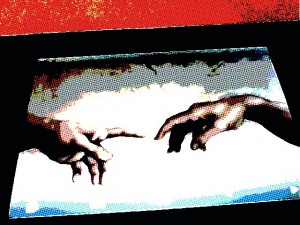 How does my writing process work?
I've always written but at times life has gotten in the way. Now I am able to make my writing more of a priority, but still if there is a situation where I'm needed, I take off from writing. Life moments are important to me these days. And it's not that I'd feel selfish writing instead of helping out. It's just that no words I'd write would have more value than meaningful human interaction.
I do sometimes set deadlines and goals for myself to get writing accomplished. I belong to a writing group in which I get two critique slots so I know I'll produce at least two stories (but I rewrite and revise a piece over and over). When certain contest deadlines come, especially if they are no-fee contests, I use that as incentive to do another re-write. The same is true when I got my poetry manuscript together; it was because I wanted to enter a no-fee contest.  Now I've submitted the manuscript numerous times (to no avail).
I might set up goals for myself, such as wanting to get published at a certain site or in a certain anthology. I am intrigued by the topical poetry site The New Verse News and aspire to write something for it.  To that end, I've begun a poem about a new word in the vernacular. I started writing it because I love the word but want to understand better just what it signifies.  Another site that intrigues me is 3elements Literary Review in which the journal gives a prompt with three elements the writer must incorporate into the submission.
New work comes in spurts. Sometimes I can only get the first lines or paragraphs of something but it is important to get whatever I can down on the page. Then I go back at a later date. Sometimes I can add only a little more. Other times I can write the piece to completion. I've gotten to love revision. When I am too distracted to write, I do submissions. I have gotten some of my older poems published lately so that's been cool.
The other thing I have to mention is that I've answered these questions about my personal writing. I also have writing goals or deadlines for this blog site, which I hope to update weekly. I love to publish other people's work and I have gotten more comfortable with writing short posts. Once I figured out I can do anything I want with the site, I feel freed up. I consider myself a prose and poetry writer but not so much an essayist. Honest, first-person, pithy accounts are not as easy for me. But I am working on them and I always love to feature others' work.
Finally I'd like to say that answering these four questions for yourself may instructive. Try it and see. You may notice something about your writing that you hadn't considered before.
A blogger who impresses me with her ability to seize the page is Mary Beth Coudal. She is able to write a slice of life or a vignette or a life lesson with what seems to be a certain ease. The other blogger, a wonderful writer too, is the novelist Barbara Froman whose blog has a couple of focuses. Barb tackles the subject of music and writing; her "Music and Prose" posts are not to be missed. Plus her site features linked Suburban Gothic stories (inspired by the Ambrose Bierce story "An Occurrence at Owl Creek Bridge"); the first installment was introduced to us in the summer of 2013.
Next stops on the Blog Tour:
Mary Beth Coudal blogs at MBCoudal.com. She owns and operates a boutique PR agency Coudal Creative Coaching, providing writing and social media services to small companies. Mary Beth Coudal also runs Boot Camp for Writers in NYC, building the confidence of writers through intensive weekends and workshops. Her funny essays have appeared at Salon.com, the New York Times, and Self Magazine.
Barbara Froman began her early studies of music at the Juilliard School's Preparatory Division. She received degrees in Music Composition from Ithaca College and Northwestern University, became the Director of Mundelein College's Creative Writing Program, taught Literature and Creative Writing at National-Louis University, and acted as a consultant to National's graduate program in Written Communication. She is the author of published essays and poetry, has placed in screenwriting competitions, and was nominated for a Fringe First at the Edinburgh Fringe. In 2011, she won the Fairleigh Dickinson University/Serving House Books First Book Award in Prose for her novel, Shadows and Ghosts, which was subsequently published by Serving House Books. She blogs about music, film, and writing at her Beyond Willow Bend blogspot, continues to compose, and is presently at work on a collection of linked stories and novellas entitled, Suburban Gothic.
Peace, love and solace . . .