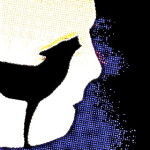 Hey there. I haven't posted in a while. Chalk it up to personal issues and being down in the dumps about the state our our nation. What's there to say that hasn't already been said?
I talked with a wise friend the other day and she told me not to be depressed by what happened in Charlottesville but instead to think of it as a turning point. This is the time that it is clear to see what our current president stands for, and that even those who supported him are looking into their hearts and deciding if this man truly represents them and America. So I ask us all to look into our hearts.
Last Tuesday I went to Millennium Park for a free concert put on by Broadway in Chicago. It was restorative, at least that was how one passenger in my car felt. But then she read a unrelated local news story on her phone and read the comments that followed where snark prevailed. So I ask you not to read the comments; that's  where the trolls live.

One bright spot for me was that two of my works (a short story and a poem) have found a second life on Digging Through The Fat; you can check out my work and that of a number of writers in the Community section.
Peace, love, and solace