Looking for something to read this summer?
Everyone–Publishers Weekly, Kirkus Reviews, Booklist— is excited about Solace in So Many Words contributor Joe Meno's new novel Office Girl. Published by Akashic Books, it is due out July 3.
Ann McNeal ("Faith") has a new book too. Published by Nuthatch Press, it is called The Spaces Between.  BTW, if you have attended a reading of Solace in So Many Words, chances are you have heard me read "Faith." The poem sums up a lot of my sentiments and  I have nominated it for a Pushcart Prize. 
E. Michael Desilets (who contributed "Archangel Bautista" and "Faithful Departed" to Solace in So Many Words) has a chapbook called "Nasty Stuff" just published by Kattywompus Press out of Cleveland Heights, Ohio. I asked if one of the poems from the chapbook could be reprinted here as a guest post, and E. Michael suggested "Tom sums it up on Saturday," which is about his brother Thomas E. Desilets to whom the chapbook is dedicated. Make sure you read it!
J. Scott Smith ("Heartbeat")  has a story called "In the Quiet of the Evening" in the latest issue of Midwestern Gothic. Patty Somlo ("Starting to Breathe") has two new stories out. One is called "Digital Camera" and appears in Penduline Press, issue number 5. The other is called "A Situation" and is in Crack the Spine, issue 23.
If you are looking for something to listen to this summer, consider Wally Swist's ("March Wind") audio book, Open Meadow: Odes to Nature, produced by Berkshire Media Arts. The audiobook features  65 poems in 79 minutes.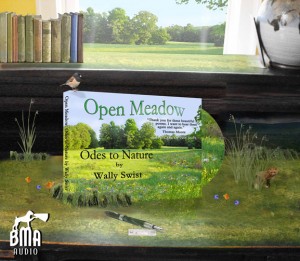 I have also heard news of impending publications from Joan Corwin and  Kathleene Donahoo, and another from Wally Swist and J. Scott Smith. I'll keep you posted.